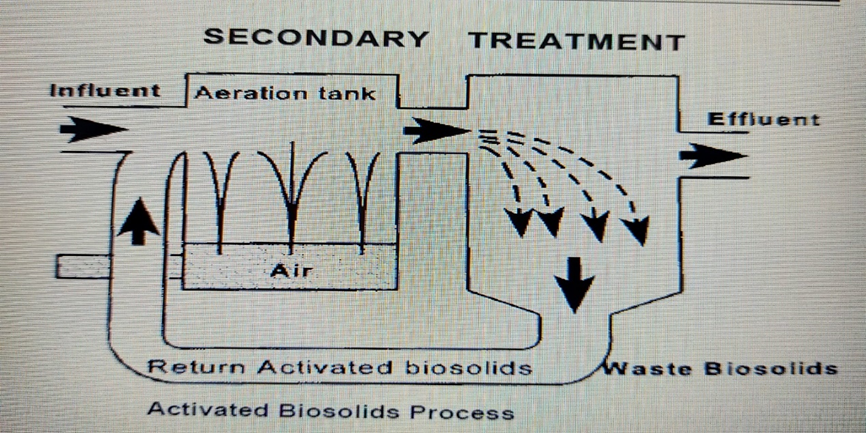 The secondary processing stage can remove 85 percent of the organic material in the waste by utilizing the bacteria in it. The processing technique used in secondary treatment is trickling filter or activated sludge method. After the waste leaves the sedimentation tank at the Primary stage, it flows or is pumped into one of these processes (trickling filter / activated sludge). However, the trickling filter process was abandoned due to the slow process due to frequent clogging of plastics and small particles in the filter. People then turned to activated sludge systems. The activated sludge process accelerates the work of bacteria by bringing air and sludge laden with bacteria into the waste. After the waste leaves the tank in the primary stage, this waste is then pumped to the aeration tank.

Where it will later mix with air and sludge which is full of bacteria for several hours. Up until this moment, bacteria breaks down organic matter into harmless byproducts. The sludge, now activated with billions of additional bacteria and other organisms can be reused by returning it to the aeration tank to mix with the new air and waste. From the aeration tank, partially treated wastewater flows to another sedimentation tank to remove excess bacteria.

In complete secondary treatment, the waste from the sedimentation tank is usually disinfected with chlorine before being discharged into receiving water. chlorine is put into water to kill phatogenic bacteria and reduce odors. If done properly, chlorination will kill more than 99 percent of the harmful bacteria in wastewater.

New pollution problems have added additional burdens to wastewater treatment systems. Today's pollutants, such as heavy metals, chemical compounds, and toxic substances are more difficult to remove from water. Increasing demand for water supply will only worsen the problem. This increasing need to reuse treated water also requires better wastewater treatment. This challenge is met through better methods of removing pollutants in sewage treatment, or through preventing pollution at the source.

To return more water that would later be used for lakes and rivers, new methods that are useful for removing pollutants are being developed. By advancing the waste treatment techniques that are used or are being developed, everything depends on the ability of biological treatment to remove mitogens and phosphorus to engineering Physical-chemical separation. Such as filtration, carbon adsorption, distillation and osmosis reverses. This wastewater treatment process, either alone or in combination, can achieve almost any level of pollution reduction desired, wastes that are purified by this treatment, can be used for industrial, agricultural or recreational purposes, or even drinking water supplies.